Desktop Offline Version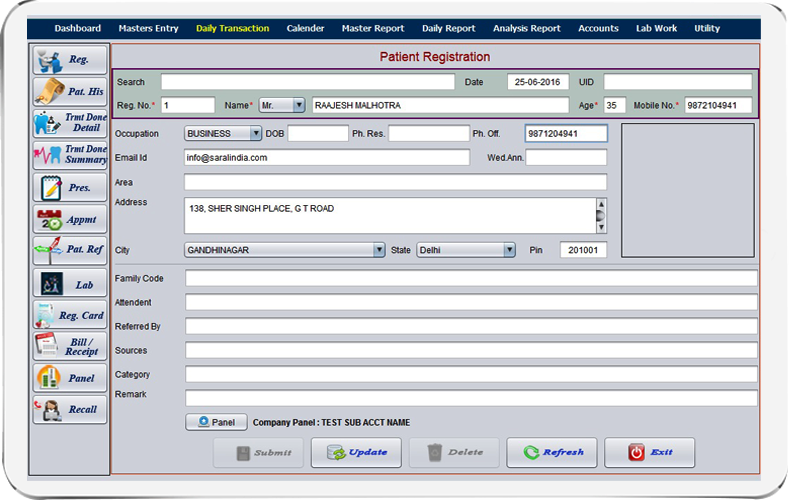 PATIENT'S MASTER INFORMATION
Patient's personal detail (One Time)
Name, Age, Mobile Mandatory.
→ Address, Phone etc.
→ Company Panel Information.
→ Referral Information.
→ Medical History.
→ Drug Sensitivity.
→ Photograph.
→ Appointments.
→ Consultation Fee Receipt Printing.
→ Physical Examination Details.
→ Patients History with Consent Letter.
→ Label Printing.
→ Patients Categorization Through Color Coding Scheme.
→ Family Coding.
→ Registration Card Printing.
→ Searching of Patients Record from any known information.
PATIENT'S TREATMENT PLANNING & DIAGNOSIS
(Doctor-Wise)
Patients Visit Wise Chief Complaints / Remarks
Endodontic & Orthodontic Details
Tooth No. Wise Details of Treatment Plan for
→ Diagnosis, Work Required, Estimate Tooth No. Wise Detailed Status.
→ Graphical Presentation of all teeth.
→ Diagnosis, Work Required, Work Done.
→ Outstanding Balance.
Imaging (Compatible with all Imaging Devices)
Voice Recording
Appointments & Recalls with Reason
Details of work view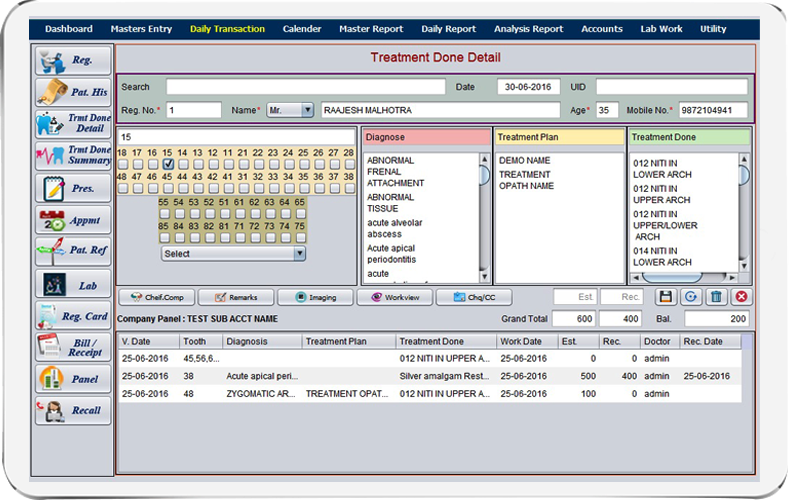 PRESCRIPTION
→ Medicine With Dosage & No of Days.
→ Special Instructions.
→ And Many More...
MASTER DATA MANAGER
→ Medical History, Drug Sensitivity, Medicines.
→ Panel Wise Diagnosis with Work Required & Estimates, Panel Wise.
→ Discounts on Estimate.
→ Prescription Settings, Appointment & Clinic Time Settings (Doctor wise).
→ Outstanding Balance.
ACCOUNTS & INVENTORY SYSTEM
→ From Day Book to Balance Sheet all Reports.
LAB WORK MANAGEMENT
→ Orders to Lab, Receiving from Lab. → Patient Wise Pending Work at Different Labs. → Lab Wise Pending / Total Work done Details.
PATIENT EDUCATION
Gum Disease, Oral Health Care, Plaque Control, R.C.T., Scaling, Extraction, Tooth Decay, Sealeant, Veener, Bonding, Bridge, Crown, Denture, Partial Denture, Space Maintainer, Endodontic, Home Care, Implants, and Link your own Patient Education yourself with the Software.
SALIENT FEATURES
→ Totally Keyboard free operations.
→ Very intuitive graphical user interface.
→ Very fast and can keep records of any time period.
→ Unique colorful coding for teeth in the Treatment Plan & Diagnosis module.
→ Voice Recording.
→ Imaging Management System.
→ Phone Dialing to patients from within the system.
→ SMS & emailing to patients from within the system.
→ Personal Alerts.
→ Appointment Transfer to Outlook.
→ And Many More...
SARAL Dental Soft Offline
Monthly Price
Subscription
Price
1 Month
900/-
3 Month
2250/-
6 Month
3900/-
Yearly Price
Subscription
Price
1 Year
7200/-
2 Year
13200/-
3 Year
18000/-
4 Year
21600/-
5 Year
24000/-
Life Time Purchase Option
Version
Price
Bronze
18,000/-
Silver
27,000/-
Gold
36,000/-
Terms & Conditions :
1. The Bronze, Silver & Gold versions on purchase will work for you life time. However if you would like to get update of SARAL® Dental Soft 20% cost of the software of that time will be charged.
2. All Payments is to be made in advance to SARAL Softech
3. Software Training and Support will be given online & telephonically.
4. Visit Charges will be extra as applicable.
5. Customization of SARAL® Dental Soft is possible at an extra cost as applicable.
6. Warranty of the software is of one year.